Ennis Whiskey Walk - Ennis Food Festival 2018
The Ennis Food Festival is a celebration of all good things food and drink related in Co. Clare and beyond. For the first time, the 2018 festival incorporated a whiskey trail around the town. The Ennis Whiskey Club was asked to lend our expertise and lead the trail and we were delighted to oblige. We selected 4 Irish whiskeys to taste, giving participants a great breath of styles of Irish whiskey. Credit Mike Mulcaire Photography for the great photos capturing the trail on the night.
We kicked off the evening with a Single Grain style Irish whiskey. Instead of the whiskey grain of choice, which is barley, a Single Grain whiskey begins with other grains. Usually, but not always, Single Grain whiskey is made mainly from maize (corn). We talked about the distillation process and how it differs from how other whiskeys are made. Specifically, we talked about continuous distillation, and how that leads to a lighter flavoured whiskey. The final result is a great whiskey to start a night's tasting.
We selected the Teeling Single Grain whiskey from the Teeling Whiskey Company. A gorgeous, non-age statement whiskey of 5-6 year old whiskeys that have been exclusively matured in Californian Cabernet Sauvignon casks giving the end product a juicy, fruity, mouthful of flavour.
Lucas's Bar on Parnell Street provided the first venue. They have a lovely little snug that just about fitted our walking group.
Onward we went up to Abbey Street where we dropped in to Knoxs. Decky, the bar manager, showed us upstairs to the smaller bar where we got onto all things single malt.
Decky poured us all a measure of the 10 year old Bushmills Single Malt. Bushmills has a long tradition of making Irish whiskey and they specialise in Single Malts. This 10 year old forms part of their core range. The whiskey was matured in both ex-bourbon and ex-sherry barrels. We talked about what exactly 'malt' is; what makes anything a 'single'; and all about marrying the contents of the barrels before bottling.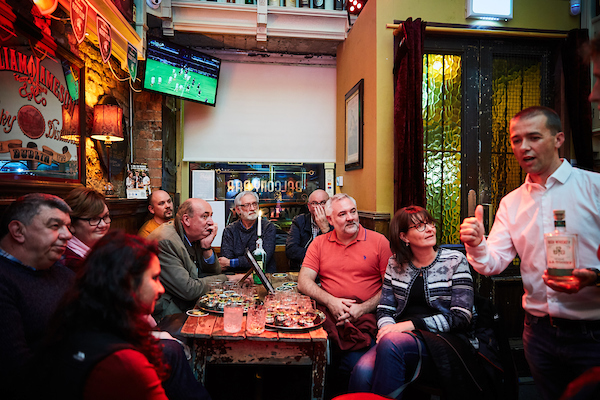 "When in Rome...", and when in Clare, drink Clare whiskey! On to our third style of the evening - blends. We were very fortunate to be able to taste the first Clare whiskey in nearly 100 years, a blend by the name of JJ Corry Irish Whiskey, The Gael.
Based in Cooraclare, The Chapel Gate Irish Whiskey Company was founded by Louise McGuane. Louise is a whiskey bonder and we talked all about the old tradition of whiskey bonding in Ireland and what Louise is doing with her bonded warehouse back in West Clare.
The Gael is a blend of mature whiskeys sourced from established distilleries in Ireland. The breakdown is given as a 60:40 ratio of malt:grain. The grain whiskey is 7 years old. The malt is a marriage of 26, 15 and 11 year old single malts. The result is a beautifully fine, elegant, fruity whiskey that went down a treat with the walking group.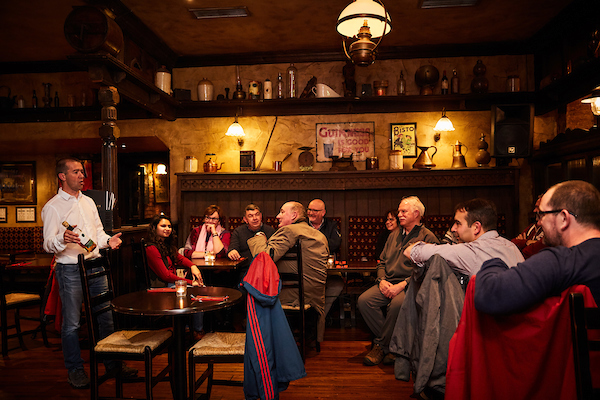 We rounded off our evening with the uniquely Irish, Single Pot Still style of Irish whiskey. Cruise's Bar was our final venue and our tipple of choice was one present at the start of my own whiskey journey, the legendary Green Spot.
A nice follow on link from whiskey bonding in the previous pub, we talked about the Mitchell family who brought us the spot range. We then moved on to what defines Single Pot Still whiskey. The group loved the tax evasion side of this story. Good mouthfuls were recommended to get a full appreciation of the lovely mouth-feel you get from Pot Still whiskey, and specifically Green Spot.
An exceptional evenings entertainment for all involved. We'd like to acknowledge Margaret O'Brien, the Ennis Food Festival co-ordinator who invited the Ennis Whiskey Club to get invovled. We'll certainly do it again!
At the end of the evening we all voted for our favourite whiskey of the night. While each and every whiskey was someone's favourite, the majority winner was our local JJ Corry Whiskey, The Gael. Up the Banner!